If the queen and Jesus could move their birthday, why can't I ?? 8DDD It was originally exactly a month ago, but i had the most horrible exam on that day. I-i couldn't face it.
I got bubble tea just to celebrate and I'm going karaoke during holidays; Teehee
Happy non-biological-seventeen to meee~~~
.... Well it was last April i updated this I won't make this journal so short; OTL OTL I've also finished my Reimu costume for Perth Supernova!
I'm currently trying to CG the things that i do not have extendable deadlines for, so i dont have many doodles atm due to my laptop condition ;w; (Check oldie touhou doddles @
~
Yuyuko-likes-chicken
though~)
I'm not supposed to upload this picture so this is all you'll see :d
As for reimu, I WAS SO STRESSED TO GET THIS DONE. I was orignally also going has the professor layton crew with
~
hk-ink
(WE HAD A HILARIOUS SKIT PLANNED), but final year is so so stressful. I have 8 tests in three days next week;;;.
I got the material around the beginning of the year, then cut everything up last weekend. I only finished yesterday with school taking up time ;w;
See the stuff that goes in and out? IT'S HELD BY BUTTONHOLES. BUTTONHOOOLLEEESS. THERE ARE ALMOST 150!
I was able to put the zigzag pattern on my melting tape xDD;;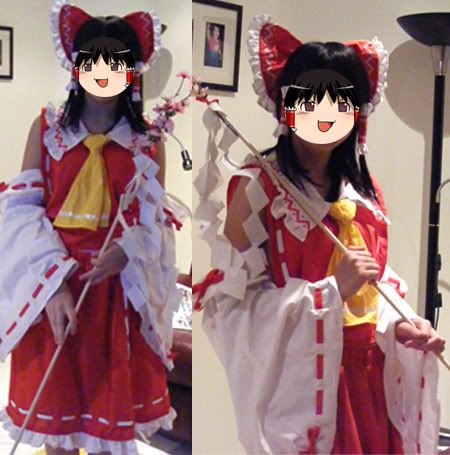 Reimu's
flower on a stick
The sleeves has a secret pocket where i can pull out reimu slips. I'M SO
COOL
GEEKY
I have a Sanae and Marisa one of these limited plushies too. I love them <333
For those coming to Supernova, I'll be there on the Sunday wearing this *w* It's gonna be friggin cold though;;
I'm gonna try to go as Aya next *w* I'll just cosplay all the characters i dont need a wig for xD
I'll be replying to messages now. *runs*
Requests:
AHHHHAHHAAAAAaaaaaaa!
Collabs:
CLOSED!
Trades:
CLOSED!