+ This is the only time of the year I sell merch online. I'm really unlikely to restock(well the charms and bookmarks will never restock).
+ I can combine shipping if you would like any artbooks
___
Pokemon 2011
+ Minimum $6 to order
+ Thank you so much for looking!
~ I'll throw in a
free
set of bookmarks or a charm for spending $15 or over(you choose!)
~ I'll add a A5 sketch request, a bit shaded with grey copic markers, for spending $40, b-because that is a really gratuitous amount;;
This special is only intended for things on this page, not the books
HOW TO ORDER-
+
Send me a note
or an email over at namieis@hotmail.com ,Title it along the lines of "ORDER"
+ Include your email so I can send a bill (invoice) to it.
+ Just list what you would like and wait for my reply!
Prices are in Australian dollar(AUD)
A4 glossy prints
$4 ea, $10 for 3.

stock in respective order=0, 4, 0, 0, 3, 0,
a=
b=
c=

d=
e=
f=

I can print out anything sold out or in my gallery for an extra $1/print! <-Sorry not anymore! The pokemon(b) print is without the strip at the bottom
A3 glossy prints $8 ea, Buy 2, get 3rd free ($16 for three)
stock in respective order= 0, 0, 0,
g=
h=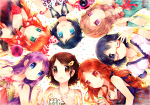 i=
1.5"Acrylic charms
$3.50 ea

Only Rin+len is available!
Set of vocaloid bookmarks
(you get all three)
$3

Click image for better look



There's around 20 to 30 of the bookmarks and charms in stock;
SHIPPING-
$2.50 within AUSTRALIA, $5 Worldwide. Please ask if you would like to register it (insure in case of any loss) However, overseas, beware it costs a fair $20 extra to do so;;;
I'll declare them as "gift" and send using a waterproof, thick, padded envelope and a bit of card for the prints. I'll also write "please do not fold or bend"; I visit the post office usually every week.
PAYMENT-
Paypal, creditcard, debit card. I'll send you an invoice through paypal as long as you can give me your email address. I can accept bank transfer within Australia