This will be the last time i'll spam you with the same message, so Whoopee 8D
Thanks to everyone who made preorders sucessfull, and everyone who bought a copy @ Waicon!

As of 17/12/10 I have 2 books left in stock. I will not reprint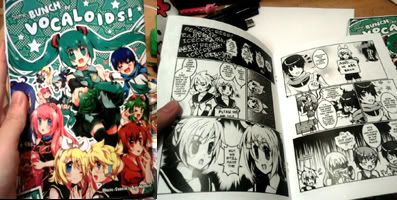 Minus sucky photo.
____MAIN INFO:____
Series:
Vocaloid
Genre:
Parody, Gag, Comedy, all that non-serious/angst stuff.
Direction:
Right-left
Rating:
PG
Size:
A5
Pages:
56 (NO BLANK PAGES)
Price:
USD$14
Shipping price:
--USD$4 for one book world wide.
--USD$2 for Australia.
--I will calculate for a different number of books.
MAIN CHARACTERS (Appear the most):
Miku, Rin, Len, Kaito, Meiko, Luka
OTHERS WHO APPEAR (Most more than once):
Megumi, Gakupo, Miki, Yuki, Kiyoteru, Haku, Teto, Neru, Miku Hachune, Tako-Luka
Professor Layton
____AWSUM AND TALENTED GUEST ARTISTS____






____So... what is in this doujinshi?____
Lets go through the checklist shall we?
-Check! Ievan polkka.
-Check! A Road Roller rampage.
-Check! Meiko pwnage.
-Check! Kaito abuse.
-Check! Icecream.
-Check! Crossdressing.
-No….Luka with a whip. But you get Luka with a knife, then with a morning star and then fire.
-Check! Heaps of references to popular vocaloid songs!
There is also a hinting of banana-split, but it is so crack that it is silly and I argue that it isn't BL.
Of course, I wont give everything that is in this doujinshi away ;D
____HOW TO ORDER____
++Please
send me a note
on this account titled= "ORDER"
++There please list your
NAME
and your
FULL ADDRESS
++ Please tell me the number of copies you wish to order. More then one copy will be replied with correct shipping price.
++If you are paying with paypal, your
PAYPAL EMAIL
too; Just so i know where is coming from who.
____ANYTHING ELSE?____
I after i confirm your order please pay !!ASAP!!, I do not have time to chase people up! I may cancel your order if you take too long because i'm a busy person OTL ;;
If you have any questions, feel free to note or ask in this journal~~